Meet the people dedicated to your well-being
Although we appear under one umbrella, all of our therapists are self employed. For your convenience, we "appear" under one umbrella to better serve you our trusted clients. We all thank you for your continual support. Below you will find our individual therapists that rent space under the " A Balanced Approach Therapy Centre" umbrella. Enjoy your journey with us.
Pricilles D. Pierce
Owner and Registered Massage Therapist
Advanced FSM Practitioner (Frequency Specific Microcurrent) ♦ Massage Therapy
♦ Recreation Therapy ♦ Reflexology ♦ CranioSacral Therapy
Sports Massage ♦ Reiki ♦ BodyTalk
Welcome to A Balanced Approach! I started this venture in 2003 and I am so proud of each and everyone who works here. We all strive to do our best and to offer the wonderful city of Regina the care needed for a healthier you. As you can see, I have studied a wide range of modalities and pull from my knowledge in all of these areas to give you a more complete treatment and a unique experience, while assisting the body in the healing process. We do a lot of networking here in our Centre, so if you aren't satisfied with one therapist, we encourage you to try another. We all have different styles and we acknowledge that, and we want you to find the perfect fit with someone here. We are confident that there is someone here who will assist you in your journey. You won't be disappointed. I want to thank you for taking the time to visit our website and I wish you an exciting journey to a healthier you.
Changing Medicine One Patient at a Time
Frequency Specific Microcurrent (FSM) is an exciting new way of treating nerve and muscle pain and many other conditions using specific frequencies and micro amperage current. Most of the time FSM produces immediate dramatic changes in tissue that make it an indispensable tool in treating pain and many other health concerns. FSM has successfully treated myofascial pain from trigger points, tendonitis, nerve pain, peripheral neuropathies, shingles, herpes, kidney stone pain, fibromyalgia and medical conditions associated with inflammation.
Oleg Medvedenko
Registered Massage Therapist
Therapeutic massage ♦ Sports Massage ♦ Deep Tissue ♦ Neuromuscular Therapy, TMJ treatments, Head Massage
With over 17 years of experience as a massage therapist, my goal is to assist you in achieving your well being, whether it is an injury, stress and tension or regular maintenance of your body.
I graduated from the Florida College of Natural Health in Miami in 1996, and since then have been licensed in the State of Florida. For over 8 years I practiced different modalities of massage therapy in Miami. After that, I worked as a Massage Therapist in the Ukraine for several years, and in 2015 I moved to Regina. I'm experienced in Sports Massage, Deep tissue, Neuromuscular therapy, TMJ treatment, Head Massage and implement different techniques in a Swedish therapeutic massage.
Looking forward to meeting you soon at A Balanced Approach!
Stephanie Waldbauer
Registered Massage Therapist
Therapeutic Massage ♦ RAPID Neurofascial Reset Specialist ♦ Sports Massage ♦ Deep Tissue
Hot-stone Massage ♦  Prenatal Massage
I was born and raised in small community in southern Saskatchewan. I eventually moved to Calgary where I was a Correctional Officer for 12 years. In 2014 the call to come home became too loud to ignore so I enrolled in the Western College of Remedial Massage Therapy, graduating in June 2016. I am now trained to rehabilitate people in a new, exciting, and interactive roll. Along with my diploma from WCRMT I am certified in a variety of other areas to help serve you better such as prenatal and RAPID Neurofascial Reset (NFR). NFR is focused on pain relief from such ailments as sciatica, plantar fasciitis, migraines, frozen shoulder as well as a many others; it requires no oil and targets the fascia that is a large part of who we are. I look forward to using the knowledge I have gained to help you find some freedom.
Please note: I will not be offering hot stone massage until the Fall.
Dawn-Ann Spence
Registered Massage Therapist
Therapeutic Massage ♦ Sports Massage ♦ Deep Tissue ♦ Prenatal Massage ♦ Reiki Practitioner
I graduated from the massage therapy program at Alberta Massage Therapy in Grande Prairie, Alberta in 2012, and worked in clinical settings in Alberta alongside other health care providers. I recently relocated to Regina and am happy to return to a clinic setting here at A Balanced Approach. My therapeutic experience brings in-depth knowledge and understanding of the body, as well as how to treat many lower back, hip, shoulder and neck injuries and restrictions. Beyond my therapeutic experience, I have studied Reiki massage and have expanded my knowledge in the well-being of others by instructing First Aid.
My goal is to help clients reduce pain and stress, improve their overall well-being and assist them in living life to the fullest.
*** Note: Although Dawn is registered, some Saskatchewan Insurance Providers are not recognizing her Alberta Diploma, Please ensure that your provider will accept her receipts prior to Booking. Dawn is currently upgrading her qualifications to meet the Saskatchewan Standards.
Jessica Swanson
Registered Massage Therapist
Therapeutic Massage ♦ Deep Tissue ♦ Reiki Practitioner
My name is Jessica Swanson and I am a Registered Massage Therapist and Certified Reiki Master. Before choosing a new career path, I spent my days working with children in different settings- I worked in a Day Care, I was a Nanny, I worked in a Before and After School program all of which were great positions but it wasn't going to be a long-term career. I knew there was more to me and more to what I could offer the world.
I found Reiki in 2012 and practiced it here and there until I decided to take it further and I received my certification as a Reiki Master in March of 2016. Since then I have had many experiences in my day to day life that reinforce my belief in life and the energy around us.
I chose to start at Western College of Remedial Massage Therapies in September 2016, knowing the two modalities would go hand in hand. I am nothing short of amazed at the knowledge I gained in two short years and I am very eager to use what I have learned to help my clients return to function, whatever that looks like to you.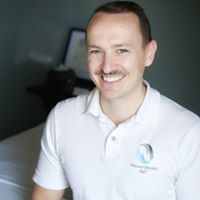 Richard Grevers
Registered Massage Therapist
*direct billing available see direct billing tab for details
Therapeutic Massage ♦ Deep Tissue ♦ Soft Tissue Release ♦ TMJ
Prenatal ♦ Relaxation

Richard graduated from Western College in 2017 with a certification in sports massage therapy. He strives to meet each client's individual need for massage, whether it be for relaxation and stress relief or for therapeutic reasons to help with tension or injury. Each session begins with a full assessment to ensure the treatment is safely and effectively tailored to meet the client's needs. He follows each treatment by giving either stretches or mobility exercises to help the client maintain the benefits of the massage at home and work. He enjoys using his knowledge of fitness and health to help people achieve and maintain a healthy lifestyle.
Richard's hours are:
Monday: 10am - 4pm
Tuesday/Wednesday: Noon - 7pm
Friday: 9am - 5pm
Every 2nd Saturday 11am - 3pm
Find me on:
Lindsay Cottin
Shiatsu Therapist
Shiatsu Therapy ♦ Moxabustion ♦ Cupping ♦ Tuina ♦ Energy Worker
Lindsay Cottin achieved her Shiatsu diploma from the Shiatsu School of Canada (now called the Acupuncture and Integrative Medicine Academy) in Toronto in 2014. She completed a two year 2200 hour professional program which included over 500 hours of clinical practice, in depth theory and assessment of both Eastern and Western medicine studies.
With training in Shiatsu, Tuina, Moxabustion, Cupping and Meditation, Lindsay provides treatments tailored to each individual's condition. Along with Eastern medicine approaches, Lindsay also has the ability to work holistically using energetic methods to connect with the spirits.​
Besides Shiatsu Therapy, Lindsay has also completed her Recreational Therapy diploma from the Saskatchewan Polytechnic school in Saskatoon in 2017.
Lindsay has a genuine passion and care for each of her clients and looks forward to bringing their health back to a balanced and happy state.
********please ensure you check with your insurance provider if this type of treatment is covered
Natalia Cabrero-Lafrenie
Registered Massage Therapist
Swedish Massage * Cold Stone Massage * Prenatal Massage * Baby/Infant Massage * Postnatal Massage * Head Massage * Sinus Drainage Massage * Trigger Point Release * Cupping Scar Treatment * TMJ Treatment * Hydrotherapy * Fascial Work * Joint Mobilizations * Body Wraps * Salt/Sugar Scrubs * Paraffin Application
Natalia is a member of the Massage Therapist's Association of Saskatchewan. She completed her massage training 11 years ago in Kitchener, Ontario where she grew up. Since graduating she has had the pleasure to work alongside various types of professionals in settings such as clinics, spas, mom and community groups, retirement homes as well as group and special needs homes.
A healthy curiosity and yearning for knowledge have kept her reinventing her treatments to always try to provide the most effective treatment she possibly can. Each treatment is personalized with the intention of providing you with a holistic treatment taking advantage of the body's innate ability to heal itself and increase your understanding of your body and techniques. She would love to work out a treatment plan with you.
6 years ago the family relocated to Saskatchewan with the idea of taking a couple years to experience the west and then head home. This beautiful province and kind people changed those plans and made it their new home. When not massaging Natalia can be found at home, discovering the community and sights or taking in a Riders game with her husband and 4 children