A Balanced Approach Massage Therapy Centre
Meet the people dedicated to your well-being
Although we appear under one umbrella, all of our therapists are self employed. For your convenience, we "appear" under one umbrella to better serve you our trusted clients. We all thank you for your continual support. Below you will find our individual therapists that rent space under the " A Balanced Approach Therapy Centre" umbrella. Enjoy your journey with us.
Pricilles D. Pierce
Owner and Registered Massage Therapist
♦ Massage Therapy
Welcome to A Balanced Approach! I started this venture in 2003 and I am so proud of each and everyone who works here. We all strive to do our best and to offer the wonderful city of Regina the care needed for a healthier you. As you can see, I have studied a wide range of modalities and pull from my knowledge in all of these areas to give you a more complete treatment and a unique experience, while assisting the body in the healing process. We do a lot of networking here in our Centre, so if you aren't satisfied with one therapist, we encourage you to try another. We all have different styles and we acknowledge that, and we want you to find the perfect fit with someone here. We are confident that there is someone here who will assist you in your journey. You won't be disappointed. I want to thank you for taking the time to visit our website and I wish you an exciting journey to a healthier you.
Oleg Medvedenko
Registered Massage Therapist
Direct Billing available upon request
Therapeutic massage ♦ Sports Massage ♦ Deep Tissue ♦ Neuromuscular Therapy ♦ TMJ treatments ♦ Head Massage
With over 17 years of experience as a massage therapist, my goal is to assist you in achieving your well being, whether it is an injury, stress and tension or regular maintenance of your body.
I graduated from the Florida College of Natural Health in Miami in 1996, and since then have been licensed in the State of Florida. For over 8 years I practiced different modalities of massage therapy in Miami. After that, I worked as a Massage Therapist in the Ukraine for several years, and in 2015 I moved to Regina and establish my practice here as a Registered Massage Therapist. I'm experienced in Sports Massage, Deep tissue, Neuromuscular therapy, TMJ treatment, Head Massage and implement different techniques in a Swedish therapeutic massage.
Looking forward to meeting you soon at A Balanced Approach!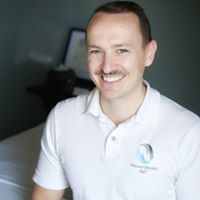 Richard Grevers
Registered Massage Therapist
*direct billing available see direct billing tab for details
Therapeutic Massage ♦ Deep Tissue ♦ Soft Tissue Release ♦ TMJ
Prenatal ♦ Relaxation

Richard graduated from Western College in 2017 with a certification in sports massage therapy. He strives to meet each client's individual need for massage, whether it be for relaxation and stress relief or for therapeutic reasons to help with tension or injury. Each session begins with a full assessment to ensure the treatment is safely and effectively tailored to meet the client's needs. Richard's main goal is to treat the areas that cause discomfort before treating the symptoms created by them. He follows each treatment by giving either stretches or mobility exercises to help the client maintain the benefits of the massage at home and work. He enjoys using his knowledge of fitness and health to help people achieve and maintain a healthy lifestyle.
Richard's hours are:
Monday: 10am - 4pm
Tuesday/Wednesday: Noon - 7pm
Friday: 9am - 5pm
Find me on:
Lindsay Cottin
Shiatsu Therapist
Shiatsu Therapy ♦ Moxabustion ♦ Cupping ♦ Tuina ♦ Energy Worker
Lindsay Cottin achieved her Shiatsu diploma from the Shiatsu School of Canada (now called the Acupuncture and Integrative Medicine Academy) in Toronto in 2014. She completed a two year 2200 hour professional program which included over 500 hours of clinical practice, in depth theory and assessment of both Eastern and Western medicine studies.
With training in Shiatsu, Tuina, Moxabustion, Cupping and Meditation, Lindsay provides treatments tailored to each individual's condition. Along with Eastern medicine approaches, Lindsay also has the ability to work holistically using energetic methods to connect with the spirits.​
Besides Shiatsu Therapy, Lindsay has also completed her Recreational Therapy diploma from the Saskatchewan Polytechnic school in Saskatoon in 2017.
Lindsay has a genuine passion and care for each of her clients and looks forward to bringing their health back to a balanced and happy state.
********please ensure you check with your insurance provider if this type of treatment is covered
Michelle Smith
Reflexologist
Michelle completed her Foot Reflexology certification through the Reflexology Association of Canada (RAC) in 2014. She was introduced to reflexology while working through her own personal health crisis and was amazed how beneficial the treatments were to her recovery – physically and emotionally. She is a member of the Saskatchewan Chapter of RAC and attended the RAC Annual AGM/Conference in Montreal in May 2017. Michelle participates in expos, fundraisers, spa nights and volunteers at community events to educate people about the benefits of reflexology. In 2016, Michelle completed her Level 1 and Level 2 Reiki Certification courses as well as a Thai Hand Reflexology course. In December 2017 she completed her Usui/Holy Fire II Reiki ART/Reiki Master course. Michelle is an Affiliate Member of the Reiki Membership Association through the International Center for Reiki Training (ICRT). She continues to expand her knowledge of reflexology, Reiki and other healing methods through workshops and courses. Michelle is also a DoTerra Wellness Advocate and enjoys incorporating essential oils into her sessions with clients that are interested.
Michelle's goal with each session is to help clients restore and maintain their body's natural equilibrium and encourage healing on all levels – mind/body/spirit. She especially loves treating children and teaching them about the importance of self-care for health and stress management. Michelle is accepting new clients.